The Actors Script Act VII - Feb 20
Magazine for professionals and those new to the industry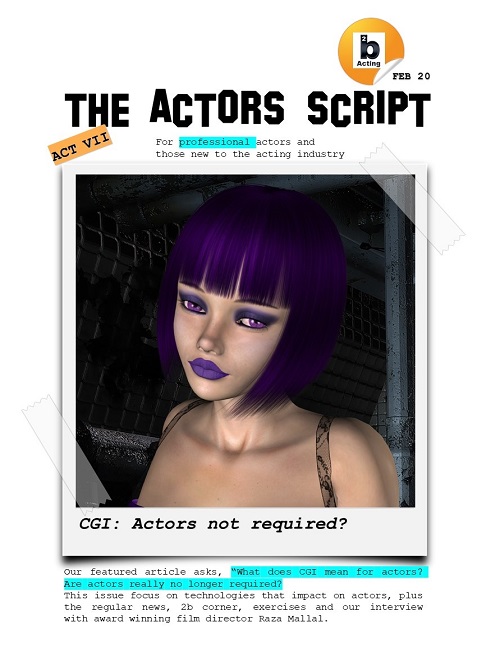 ABOUT THE ACTORS SCRIPT
We want to provide actors with easy access to relevant and updated information and inspire them to keep acting.

We believe the future is art. Having positive, engaged and well-informed actors is essential to develop and support growth in the creative industry.

Since establishing in 2005, we never follow the crowd, always pushing boundaries towards our objectives. We have created productions such as Today and Tomorrow, The 2b Show, Witch Trinity, Comedy Monologues and Fringe Theatre plays which have all provided paid work to many actors over the years. We are planning future ongoing interactive productions to offer continues opportunities so even more actors can be acting.

Our previous collaborations with organisations such as the Arts Council England, The Joseph Rowntree Charitable Trust, ITV local, Venus TV and Leeds City College, to name just a few, and the creatives we continuously engage with, has given us the knowledge and ability to establish this must have resource to help actors in their career.

The Actors Script, is a national UK magazine for professional actors and those new to the acting industry. It contains regular support information such:
Exercises to improve your acting skills * Information and news to improve your knowledge about the acting industry and inspire you.
Update on changes in technology that may impact your work * Improve your opportunities with tips, advice and examples.
It encourages you to engage and share with other actors * Provides you with growing acting resource to help you find and keep working.
The magazine is a place to voice your opinion, offer advice to other actors and be part of a community that can help you in your career. It is also an opportunity to stay in touch or work with 2b Acting.
The Actors Script ACT VII - Feb 20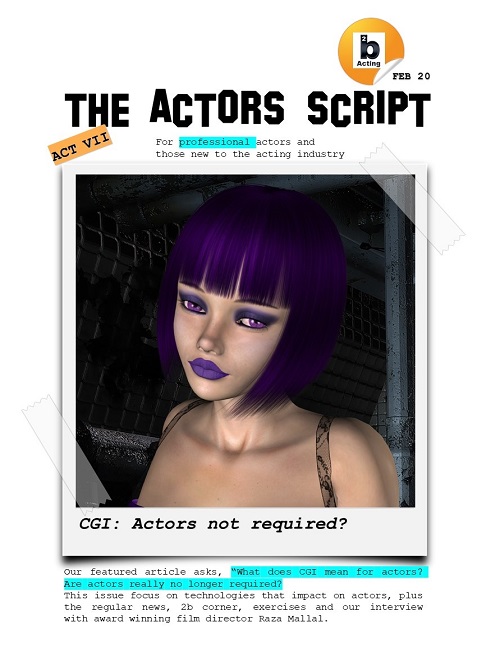 In this issue our featured articles are; CGI: Actors NOT REQUIRED?: What does CGI mean for professional actors?, Working with Green Screen, Gaming and Video crossover, Interactive Video Advice, 360 Degree and UHD filming.

Useful resources such as ACTING EXERCISES: concentration; ACTING TECHNIQUES; CV SAMPLE; LEGAL STUFF and more.

Also included are regulars: Inspirational stories to keep you going; 2b Acting's corner (announcing the start of Space Vorilex, an update on The basement activities and the launch of the Today and Tomorrow: Interactive ); Film Grammar (How film works);

Featured Interview: where we talk with award winning Film Director Raza Mallal, whose comedy 'Ask the Cheat' starring Nick Moran recently won Best Feature at the Birmingham Int. Film Festival and is currently being released in America.
---
ACT V - JUN 19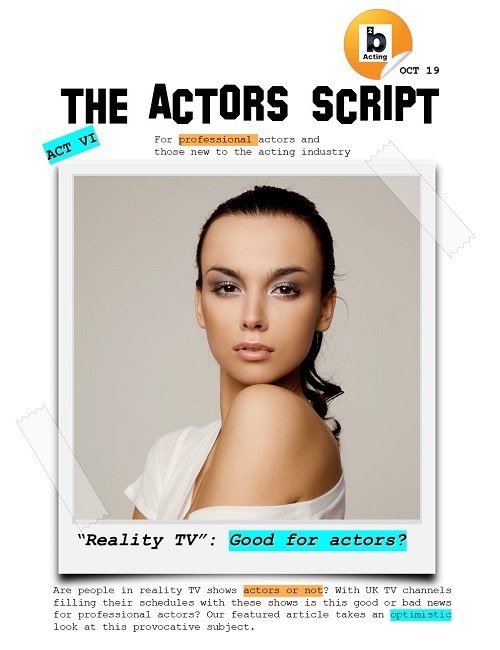 In this issue our featured articles are; "Reality TV": Good for actors?: What does it mean for professional actors?, A YOUNGER YOU: Digital editing turns the clock back for actors, A NEW WAY TO Get NOTICED: Take work outside the establishment, A change IN viewing habits: Why independent filmmakers are turning to the internet, How to sell yourself as an Actor: Selling is hard.

Useful resources such as ACTING EXERCISES: Self-observation; ACTING TECHNIQUES; CV SAMPLE; LEGAL STUFF and more.

Also included are regulars: Inspirational stories to keep you going; 2b Acting's corner (announcing the start of Today and Tomorrow: Interactive); Film Grammar (How film works); Featured Interview (where we talk with Jami Tennille, actor, mentor, screenwriter, and filmmaker with award-winning work, including the academy award winner, "Manchester By The Sea." plus Acting News that impacts on careers.

Website Terms and Conditions Apply

>